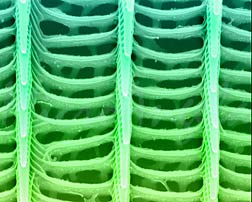 Butterfly Wing Scale Closeup
Here is a higher magnification of part of a single scale. Red or yellow in a butterfly wing usually comes from tiny grains of pigments in the cells. Blue and green are not produced by pigments, but result from light bouncing off the shapes of the ribs and cell walls, like a prism.

This is magnified about 14,000 times.