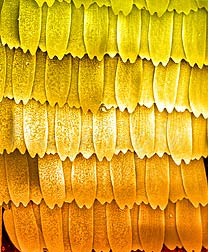 Butterfly Wing
This is part of a butterfly wing. The wings of moths and butterflies may be plain-colored or may have striking and colorful patterns. The wings themselves don't have much color; it is the presence of scales on the wings that produce the patterns. Each wing may have hundreds or thousands of scales that contribute to the wing color pattern.

When you catch a butterfly or moth you may notice a powder that rubs off of them. This powder is a bunch of tiny scales.

This is magnified about 75 times.