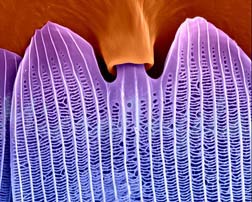 Scale From a Butterfly Wing
Each scale plugs into a socket on the wing. The scales have grids of high and low ribs and cells. The cells may hold pigment granules, which provide color to the wings. The arrangement and spacing of the ribs and cells also contribute to the color, in addition to the pigments. It is the size, pattern and spacing of these ribs that interact with light that gives the appearance of color.

This is magnified about 3,500 times.